In today's world, people of all ages spend more time on digital devices than ever before. Whether it's a commuter on their smartphone, an office worker on their computer, or a teen going through their tenth game of Overwatch—digital screens are a fact of life.
However, extended use of these devices can lead to a common problem known as digital eye strain. Eye strain can leave your eyes exhausted and uncomfortable, and even lead to dry eyes. How long eye strain lasts can depend on the factors and causes behind it, but typically, it resolves in an hour or so after taking a screen break.
If your eye strain keeps returning and impacts your daily life, your optometrist can examine your symptoms and diagnose the underlying cause.
Causes of Eye Strain
Eye strain is when the eyes become tired and sore after prolonged use. It's not typically a serious condition, but it can be uncomfortable and affect vision.
One of the leading causes of eye strain is using devices at close range, called digital eye strain or computer vision syndrome. When digital screens are used at a short distance, the muscles of our eyes need to constantly contract to adjust focus and follow a single object. This constant exertion can lead to muscle fatigue, just like jogging can lead to sore legs.
Another contributing factor is a lack of blinking, which reduces moisture on the eye's surface. We naturally forget to blink as much as we normally would when concentrating on a screen. The difference can be massive, too. Typically, we blink about 17 times per minute. While staring, we may only blink as little as 4 times per minute. Reduced blinking can lead to dry eyes, which can cause discomfort and even damage the cornea.
Extended computer use can cause extra strain for people with underlying vision problems. Even people with vision problems that usually go unnoticed might have their symptoms exacerbated by the increased demands from constant screen time.
Other Sources of Eye Strain
While much focus these days is on digital eye strain, computers aren't the only cause of this frustrating fatigue. Reading small print or in the dark won't damage your eyes permanently but can cause minor eye strain.
Eye Strain Signs & Symptoms
Eye strain shares symptoms with other vision issues but can usually be identified by when they occur. If you notice any of these signs or symptoms after prolonged computer use, you may be dealing with digital eye strain:
Blurriness
Double vision
Headaches
Dry eyes
Redness
Irritation
Fatigue
Watery eyes
You may also notice neck or shoulder pain while working at a computer. These typically occur alongside eye strain due to bad posture.
While there aren't a lot of studies on how long eye strain symptoms last, many people say they typically fade within an hour of your previous screen interaction. Other symptoms, such as headaches, may last longer, but if you are experiencing discomfort for multiple days, it may be a sign of something more severe, and you should contact your optometrist.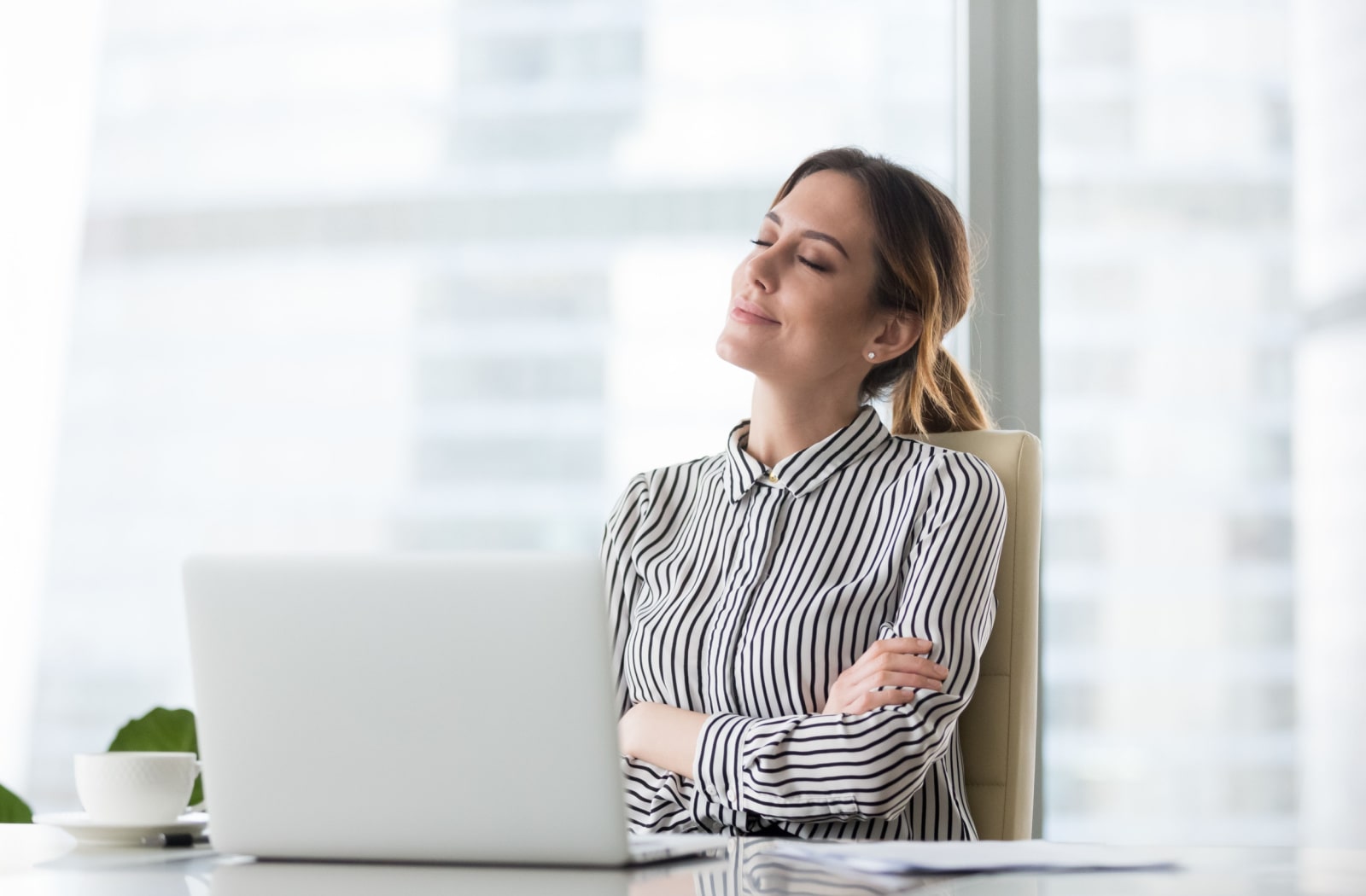 Tips for Preventing Digital Eye Strain
One of the best ways to prevent digital eye strain is to avoid digital screens. However, that's not always possible. Being aware of your behaviour while using screens can go a long way in preventing discomfort, so follow these tips for preventing or reducing digital eye strain:
Take regular screen breaks: We all need a break, so follow the 20-20-20 rule for screen use. After every 20 minutes of screen time, look at an object 20 feet away for 20 seconds.
Remember to blink: Be aware while working on a computer, and remind yourself to blink and refresh the moisture in your eyes.
Reposition your screen: Adjust screen brightness and contrast to comfortable levels and position it to avoid glare from overhead lights or windows.
Adjust your posture: Rearrange your workspace so you can sit straight with your feet flat on the floor. Your screen should be about an arm's length away, and the centre should rest 20 degrees below eye level.
Regular comprehensive eye exams are also a key part of maintaining eye health. Your optometrist can monitor vision changes and offer suggestions on avoiding eye strain. Adults 20–64 should visit their optometrist at least every 2 years or more if they have a high risk of vision problems.
Remember, kids aren't exempt from digital eye strain. If your child complains that their eyes hurt while using a screen, encourage them to take a break. Bring your child in for an eye exam every year. That way, we can check that their vision is developing as it should.
Comfortable Vision in Grande Prairie
While eye strain isn't typically dangerous, it can be frustrating and seriously impact your day. Digital screens are a part of our lives, and we must do what we can to use them safely. By incorporating good practices like the 20-20-20 rule and maintaining proper posture, you can significantly reduce the risk of eye strain.
The good news is eye strain should fade about an hour after you take a break. Contact us if your symptoms are lasting longer than they should. Our experienced Doctors EyeCare Grande Prairie team can examine your eyes and hopefully rule out something more serious. We want your eyes to stay comfortable and clear, so book your eye exam today.