No matter what stage of life you're in—maintaining a consistent schedule with your optometrist is always important.
Whether you're just getting a routine eye exam or getting fitted for contact lenses, taking care of your eyes is essential.
Maintaining consistency with your optometrist is also essential to treat eye conditions like myopia.
But, what is myopia? Let's explore what myopia is, some symptoms to look out for, and if myopia can be prevented.
What Is Myopia?
Myopia or nearsightedness is an eye condition caused by a refractive error that makes faraway objects appear fuzzy or blurry. A refractive error occurs when your eye doesn't focus light correctly. People who are dealing with myopia can see nearby objects clearly.
Myopia is a common condition and can be diagnosed with any exam conducted by your optometrist.
Some of the symptoms of myopia include:
Blurry vision when looking at faraway objects
Eyestrain
Squinting to see faraway objects
Headaches
If you have mild myopia, you may not notice any symptoms. With mild myopia, you can mistake myopic vision with normal vision. These symptoms of myopia usually go away following treatment with prescription eyeglasses or contact lenses.
Following these treatments, you may deal with headaches or eye fatigue for a while as you adjust to new glasses or contact lenses.
There may be other serious conditions that can cause blurred vision, which include:
Detached retina
Cataracts
Glaucoma
It's essential to consult your optometrist to determine your condition and the best course of action.
Risk Factors for Myopia
While anyone can develop myopia, it tends to develop in children and younger people and may worsen as they age. Adults usually remain nearsighted if they have the condition as a child.
Some of the risk factors for myopia include:
Age
Diabetes
Frequent visual stress
Family history
Less time spent outdoors
More time spent using screens
These factors can contribute to myopia. Until your early 20s, your eyes are growing, so the shape of your eyes can change.
So, you know what myopia is and how it can affect you, but can it be prevented? Let's take a look.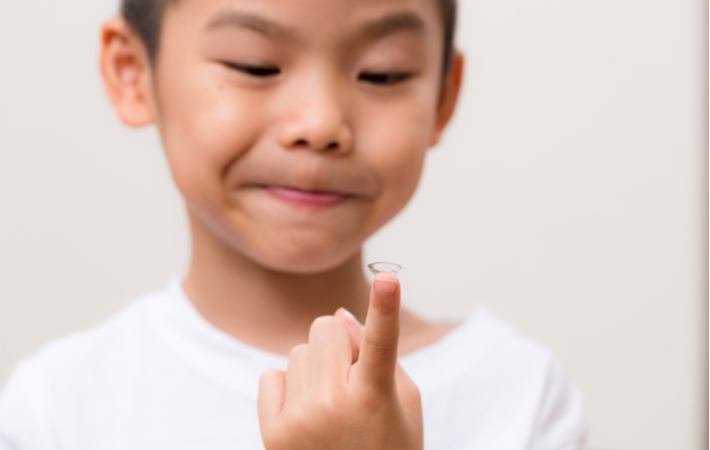 Is Preventing Myopia Possible?
While myopia can be treated through prescription eyeglasses and contact lenses, it cannot be prevented. Myopia runs in families and most likely starts in early childhood. Your eyes usually stop changing after your teenage years, and outside factors may contribute to accelerating myopia.
However, even though myopia cannot be prevented from developing, certain treatments can be used to reduce its progression or correct it.
These promising myopia control treatments include:
Atropine eye drops
Multifocal contact lenses
Orthokeratology
Myopia control glasses
Aside from these methods—taking care of your eyes is essential in managing myopia.
Some steps you can take to protect your eyes include:
Limiting screen time
Taking frequent breaks while working on any screens
Spending more time outdoors
Getting regular eye exams
Wearing sunglasses with ultraviolet radiation protection
Avoiding smoking
Eating a diet rich in fruits, vegetables, and omega-3 fatty acids
Treating myopia is possible, and you'll have plenty of options provided by your optometrist.
Preventing myopia from developing is impossible.
When dealing with myopia, the best course of action is getting treatment and visiting your optometrist to correct it.
Living With Myopia
Even though complete prevention isn't possible, living with myopia is very common nowadays. Your options for corrective eyeglasses and contact lenses are readily available. Managing your myopia is all about taking care of your eyes. Book an appointment with your optometrist today to learn more about myopia, and find the right corrective treatment option.